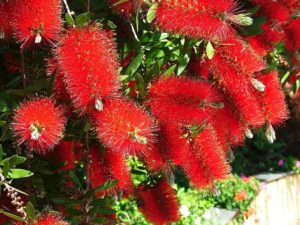 Callistemon spp.
Beautiful red tropical bottlebrush-shaped blooms

Colorful shade tree to add to gardens

Strong medium sized evergreen tree

Loves the Hill Country climate and is hardy to heat and cold
Bottlebrush trees are members of the genus Callistemon and belong to the family Myrtaceae. These tropical trees grow wildly all over the coast of Australia. The Bottlebrush tree blooms 2 to 4 inch long flowers which resemble a bright red bottle brush. These trees are drought tolerant making them perfect durable trees for Hill Country landscapes. Bottlebrush trees are a great way to add extra privacy to your home due to their dense evergreen foliage.
Bottlebrush trees have strong trunks and canopies that can easily withstand strong desert Monsoon winds. They grow to a medium to large height creating a sun blocking filter that provides convenient shaded relief and cooler temperatures to its surrounding environment. Bottlebrush trees bright red flowers make a fantastic focal point to any landscape and are a must have if you have a tropical themed front or backyard design.