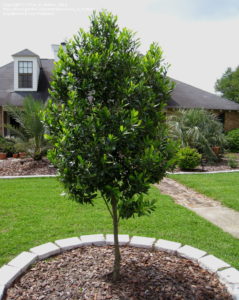 Prunus caroliniana compacta
A sensational privacy hedge
Dark green dense foliage

Beautiful white flowers in the spring

Great tree to improve a landscape
Carolina Cherry trees come from the fragrant and long lasting Rosaceae tree family which are planted worldwide, but are diverse in the northern hemisphere. They flourish in continuous direct sun exposure once established and create a densely green pyramid shaped top. The leaves are evergreen, lustrous and dark, held on brown thornless stems, which exude the scent of maraschino cherries when broken. Carolina Cherry trees have rapid growth and produce seasonal spring white flowers.
Carolina Cherry trees are easy to maintain and work vigorously to provide a year round thick dense green foliage commonly used by landscapers seeking to add additional privacy to a home or residence. These trees perform fantastically in any just about any landscape and add value to your arrangement with low yard care maintenance input.
The leaves and fruit have a high concentration of hydrocyanic acid and are potentially poisonous.