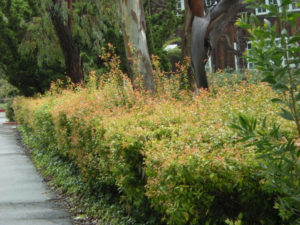 Xylosma congestum
Adaptable to most soils

Extremely hardy to desert heat and drought resistant

Trim formally for shapes, hedge or screen


Deer resistant
This graceful, large evergreen shrub grows 12′-20′ tall and 8′-12′ wide. shiny-leaved, broadleaf evergreen from East Asia is a delightful and versatile foliage plant for mild-climate gardens. Young plants are sometimes spiny. The leathery oval leaves are bronze tinted upon emergence, maturing to glossy yellow-green. Plants shed numerous leaves in early spring and after heavy frost. The inconspicuous fragrant yellow flowers appear in late summer. Dark red berries follow the blossoms, aging to black.
Gracefully arching branches of lance-shaped bronzy-red new foliage matures to a lovely chartreuse-green with an attractive glossy sheen. This heat-tolerant species is easily kept to a smaller size as it takes well to shearing making it a fine choice to use as a medium-sized hedge or screen. Though exhibiting relatively low water needs a more lush and attractive plant will be achieved with a more regular watering schedule and a spring feeding with a well balanced fertilizer. Full to partial sun.
They are popular with bees, so beware of planting adjacent to outdoor living areas.