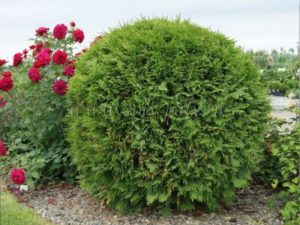 Thuja occidentalis 'Woodwardii'
Features sprays of fine-textured, lacy foliage that are bright green above and pale green below, turning shades of green and brown in winter.
Grows in a rounded shape.
Releases a pleasing aroma when leaves are squeezed.
Works well as a hedge, specimen or foundation plant.
The Arborvitae Woodward Globe will flourish where no other evergreen shrub can; it spreads a lush screen of foliage that can provide privacy or shelter to the birds during the winter season. This type of evergreen shrub at maturity grows to a height of 4' – 10' feet and gets to a spread of about 8' – 15' feet. Arborvitae Woodward Globe will prosper in deep cultivated, yet moist and fertile soil and in full sun.
This specie of shrub blossoms in the spring with flowers that is yellowish in color. Arborvitae Woodward Globe is drought tolerant at the same time it is deer resistant, it can be used as fence as it is good for privacy. The shrub is also popularly used in slope or erosion control.