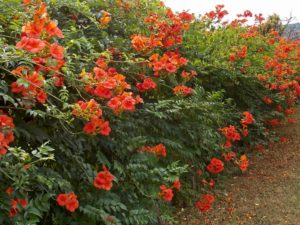 Campsis radicans
Perennial Vine.
Easily grown in average, medium moisture, well-drained soils in full sun.
Will grow in some shade, but best flowering is in full sun.
This is a twining vine that needs a support structure upon which to grow.
A great fast growing flowering vine for cloaking open shade arbors quickly. Snake it up posts or columns to overhead trellage at gateways and entries. Will sprawl up large bare walls and across the roof to bloom in the heat. Good coverage for masking old or unattractive fences and outbuildings from view. Drape over walls or let it cascade off retaining walls. Add to wildlife friendly settings for increased hummingbird draw.
Common Names: Trumpet Creeper, Trumpet vine, Common Trumpet Creeper, Cow Vine, Foxglove Vine, Hellvine, Devil's Shoestring
Handling plant may cause skin irritation or allergic reaction.
AD