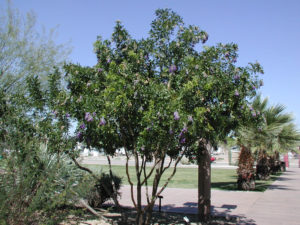 Sophora secundiflora
A true Texan beauty produces wonderful color

Fragrant blooms with a sweet aroma

Very cold hardy and low maintenance specimen

Ornamental tree performs well in many landscape applications

A Texas native, the Texas Mountain Laurel embodies everything beautiful about our great state. The Texas Mountain Laurel produces large blue to lavender flowers that have a distinctly sweet aroma, often compared to grape Kool-Aid. These ornamental beauties add not only abundant color, but a sturdy and reliable presence that's a dependable addition to any landscape.
Texas Mountain Laurels produce very little litter as they never lose their leaves. Their relatively small size and steady growth means easy maintenance even for the inexperienced landscaper. They're native to central Texas, so you know they love our soil and weather patterns, and seem to bloom brighter and longer here than anywhere else.
Keep pets and children away from the poisonous seed of the Texas mountain laurel. The seeds are red, about one-half inch in length and cased inside a silvery gray pod which opens after the plant flowers.